2021 Summer Menu
If you suffer from any type of food allergies please speak to a member of staff, who will be happy to advise you of the ingredients of all the items on the menu.
Light Bites
Available until 9.30pm Monday – Saturday and 6pm on Sunday
Calamari £6.25  
Crispy battered rings with basil & lemon sauce
Hot 'N' Kickin Chicken Wings £6.50
Fiery coated served with BBQ sauce
Sweet Potato Falafel Bites (ve) £5.95
Served with houmous dip
Battered Calamari Rings £5.95
Comes with dressed leaves and basil & lemon sauce
Loaded Dirty Fries £6.50
Cheesy, baconey, sour creamed & topped with spring onions
Halloumi Fries (V) £5.95
Served with sour cream and sweet chilli sauce
Sharing Plates
Available until 9.30pm Monday – Saturday and 6pm on Sunday
Nachos £6.95 / £8.95
For one or for two
Smothered in melted cheese, salsa, guacamole and sour cream
Add chilli con carne for an extra £1.95 / £2.95
Fisherman's Catch £22.50
Beer battered fish goujons, wholetail scampi, haddock, leek & cheddar fishcakes, coconut prawn skewers and battered calamari, served with homemade coleslaw and steakhouse chips
For the Vegetarians (V) £11.95
Selection of spring rolls, spiced butternut quinoa bites,
veggie & spinach pakoras, sweet potato falafel chunks & onion rings
Bloomers
White or malted bread buttered, with salted crisps on the side (toasted option)
Stilton, Mushroom & Bacon £4.95
Giant Fish Fingers & Ketchup £4.95
Cheddar Cheese & Branston Pickle (V) £4.95
Tuna, Sweetcorn, Mayo & Cucumber £4.95
Southern Fried Chicken, Cheddar and Chipotle Sauce £4.95
Wiltshire Ham & Salad £4.95
Chilli con Carne & Sour Cream £6.25
Tuna, Sweetcorn & Mayo £6.25
Houmus & Grilled Red Pepper (V) £6.25
Wiltshire Ham and Cheddar £6.25
BBQ Pulled Pork & Onion £6.25
For the Summer
Served with homemade coleslaw or a fresh garden salad with French dressing
Ploughman's Lunch £9.95
Farmer's plate of Wiltshire ham, cheddar, stilton, pickles, salad greens and bread
Pulled Chicken Club Sandwich £7.95
Mixed with garlic mayo, served with bacon tomato and lettuce on a toasted bloomer with chips on the side
Chicken & Bacon Salad £9.95
Fresh garden salad with bacon and grilled chicken fillet, tossed with French dressing
Mediterranean Quiche (V) £7.95
A blend of Mediterranean vegetables and feta cheese in a golden pastry served with a fresh garden salad
Burgers
Our burgers come complete with homemade coleslaw, chipotle sauce on a toasted brioche bun,
And a choice of sweet potato fries or chunky cut chips
Maybe try some cheddar or stilton, bacon or onion rings as an extra – 0.60p each?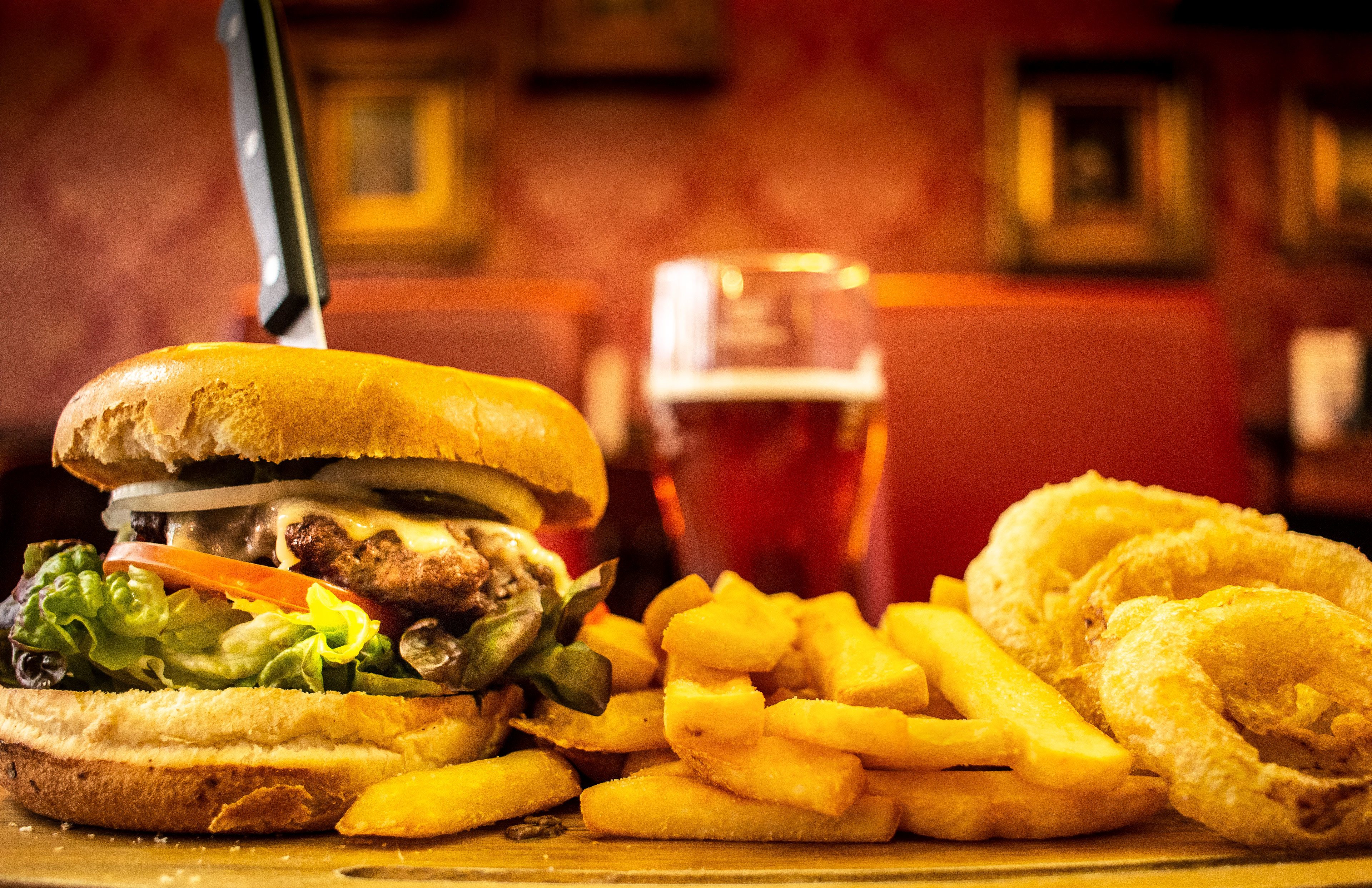 Homemade Beef £12.50
With bacon jam, salad leaves and tomato
Bacon & Chicken Fillet £12.50
With mayonnaise and melted cheese
BBQ Pulled Pork & Jalapeño £10.50
Slow cooked with onions and BBQ sauce
Spinach & Falafel (v) £10.50
With hummus, tomato and salad leaves
The Works Burger  £14.95
Lovely – bacon, cheese, fried egg and onion rings!
Grilled Halloumi (v) £10.50
With sticky chilli sauce, guacamole and grilled red pepper
The Market Inn's Classic Fish and Chips
Sussex ale battered Fish and chips, served with crushed mint peas and lemon wedge £11.95
or 2 for £19
Sausage & Mash £12.50
A trio of sausages served with creamy mustard mash, garden peas and a rich gravy, choose from:
Wholetail Scampi £11.50
A true pub classic, served with chips and homemade coleslaw
Shortcrust Pies £11.95
Served with a choice of mashed potatoes or chunky cut chips, garden peas and rich gravy, choose from:
Steak & Ale
Chicken, Ham & Leek
Root Vegetable (v)
Haddock, Leek & Cheddar Fishcakes. £12.50
Blended with spring onion and mash potato, served with steakhouse fries and garden salad
Chicken Tikka Masala £11.95
Classic Indian curry made with tomatoes, yoghurt and coconut cream served with rice and naan bread
Hunter's Chicken £13.95
Succulent grilled chicken breast topped with bacon, melted
cheese & BBQ sauce, served with garden salad, and a choice
of mashed potatoes or steakhouse fries
Gammon Ham, Eggs and Chips £13.50
A British classic pan-fried gammon steak, served with steakhouse fries, fried eggs and garden peas
Roasted Vegetable Lasagne (v) £10.95
Layers of pasta filled with a rich tomato sauce and roasted vegetables, covered with cheese and served with garden salad and garlic bread
Bowl of Chips £3.50
(with melted cheese £4.00)
Cheesy Garlic Bread £4.50
Daily Specials
Available until 9.00pm Monday – Saturday and 6pm on Sunday
check out our Specials board for today's specials
Children's Menu
Available until 9.00pm Monday – Saturday and 6pm on Sunday
Ask at the bar for our selections.
For any allergies, please speak to a member of staff